12TH BRAINS FOR BRAIN FOUNDATION (B4B) INTERNATIONAL WORKSHOP, 8-10 MARCH 2018, FRANKFURT–GERMANY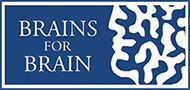 We are pleased to announce the forthcoming 12th meeting of the Brains for Brain Foundation (B4B).
B4B is an International Task Force (chaired by Prof Maurizio Scarpa) composed of outstanding scientists and 'clinicians' who are leaders in the neurological field. Together with Biotech companies they aim to facilitate joint efforts to improve the understanding of rare genetic diseases affecting and seriously damaging the brain, in particular in children. The main mission of the foundation consists in the funding of translational research and education in the field of neurodegenerative paediatric disorders mainly focusing the attention on a group of about 40 genetically and biochemically very well characterised diseases, called Lysosomal Storage Disorders (LSDs).
Click here for more information about this workshop and to register your participation.