ERN Video Translations
FRANÇAIS (SUBTITLE), DEUTSCH (SUBTITLE), ITALIANO (SUBTITLE), NEDERLANDS (SUBTITLE), ESPANOL (SUBTITLE), ČEŠTINA (SUBTITLE), DANSK (SUBTITLE), EESTI (SUBTITLE),  ΕΛΛΗΝΙΚΆ (SUBTITLE), LATVIEŠU VALODA (SUBTITLE), LIETUVIŲ KALBA (SUBTITLE), MAGYAR (SUBTITLE), MALTI (SUBTITLE), POLSKI (SUBTITLE), PORTUGUÊS (SUBTITLE), ROMÂNĂ (SUBTITLE), SLOVENČINA (SUBTITLE), SLOVENŠČINA (SUBTITLE), SUOMI (SUBTITLE), SVENSKA (SUBTITLE), HRVATSKI (SUBTITLE), NORVEGIAN (SUBTITLE)
European Reference Networks (ERNs) are virtual networks involving Reference Centers across Europe. They aim to tackle complex or rare diseases and conditions that require highly specialised treatment and concentrated knowledge and resources. To review a patient's diagnosis and treatment, ERN coordinators will convene a "virtual" advisory board of medical specialists across different disciplines, using a dedicated IT platform and telemedicine tools. This way it is the medical knowledge and expertise that travel rather than the patients, who have the comfort of staying in their supportive home environments.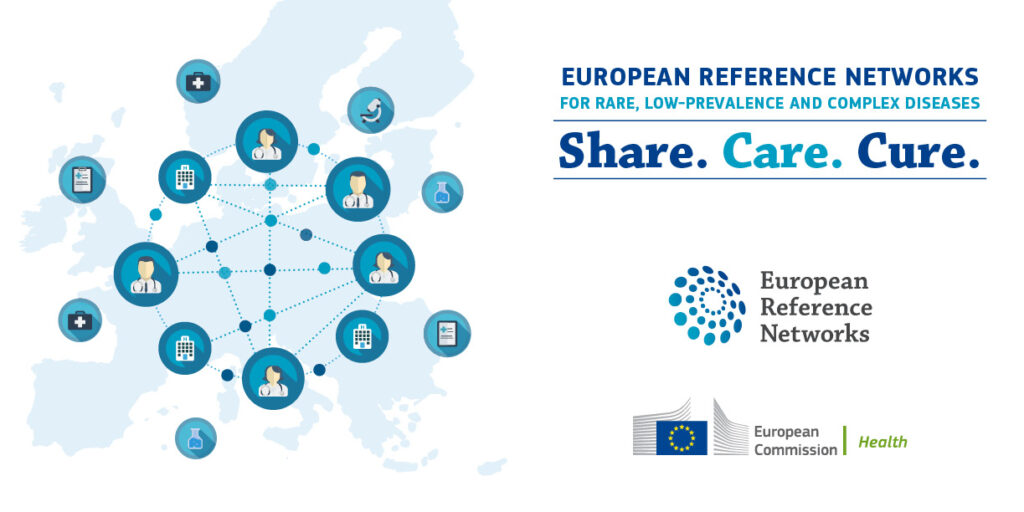 How will ERNs help patients?
Between 6.000 and 8.000 rare diseases affect or will affect an estimated 30 million people in the European Union. Many of these rare diseases cause chronic pain and suffering, and a number of them can be life-threatening. The negative impact on the quality of life of affected patients, many of whom are children, is significant.
An unfortunate feature of rare diseases and complex conditions is the scarcity and fragmentation of specialist knowledge, which is often not available in the patient's region or country. Many patients therefore do not find a satisfactory explanation for their symptoms or the necessary knowledge on treatment options. Consequently, many patients and their families rely on the internet to search for doctors and Reference Center with the expertise to give them the best possible chance of survival.
By consolidating knowledge and expertise scattered across countries, the ERNs will give Reference Centers access to a much larger pool of expertise. This will result in better chances for patients to receive an accurate diagnosis and advice on the best treatment for their specific condition.
ERNs are not directly accessible to individual patients. However, with the patients' consent and in accordance with the rules of their national health system, patient cases can be referred to the relevant ERN member in their country by their Reference Center.
Major Opportunities Offered By The ERNs for
Patients
Optimization of care pathways

for patients with rare disease: diagnosis, management and access to therapy

More effective clinical trial designs

that consider the very special and unique circumstances of rare disease research

Creation of databases/registries/natural histories

of patients in a coordinated way

Close interaction with family associations

which may help logistical challenges associated with conducting trials for small patient population

Close interaction among ERNs

to integrate expertise needed for clinical trials

Possibility of helping Companies

to generate new clinical trial designs based on the right choice of the primary and secondary endpoints based on the well characterised patient population followed by the ERN.

Possibility of generating studies also for ultra rare patients

due to the availability of numbers of patients in a coordinated way

Protection of patients

from not well designed clinical trials

Counselling the patients

in the understanding the value of the clinical trials

ERN Leaflet
You can download the electronic version of the leaflet by clicking the language symbols below. 
Translations of the ERNs Flyer are now available in all EU official languages:
BG,
CS,
DA,
DE,
EL,
EN,
ES,
ET,
FI,
FR,
HR,
HU
, 
IT,
LT,
LV,
MT,
NL
, 
PL,
PT, RO
, 
SK
, 
SL
, 
SV
BG = Bulgarian, CS = Czech, DA = Danish, DE = German, EL = Greek, EN = English, ES = Spanish, ET = Estonian, FI = Finnish, FR = French, HR = Croatian, HU = Hungarian, IT = Italian, LT = Lithuanian, LV = Latvian, MT = Maltese, NL = Dutch, PL = Polish, PT = Portuguese, RO = Romanian, SK = Slovak, SL = Slovene, SV = Swedish